INSTANT RELIEF FOR STRESS, LEG NUMBNESS, BACK PAIN, HEADACHES, AND MORE!
Dr.Happy Feet have 82 acupressure points that have been scientifically arranged by professionals to target all areas of your body to promote better blood circulation, relieve stress, avoid leg cramps, better sleep, and overall body tension relief.
You can't put a price on health. Dr.Happy Feet - Acupressure Massage Slippers have been proven to improve your quality of life. In less than 20 minutes each day, watch your muscle tension go away, energy levels increased and sleep cycles improved!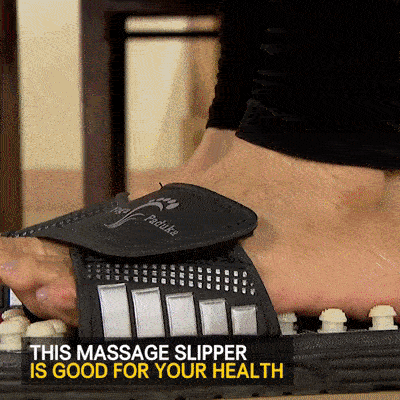 REFLEXOLOGY MASSAGE IN EVERY STEP YOU TAKE!
Massage Slippers feature nodules that apply pressure to the soles of your feet, which in turn, improves blood circulation, prevents leg cramps and headaches, and encourages full-body wellness!
In fact, the continuous use of these slippers will eliminate stress altogether and reduce neck and shoulder tension. Even more incredible, these amazing slippers were created using anti-microbial materials to eradicate foot odor.
BENEFITS
✅ Lowers Blood Pressure - High blood pressure, also called HBP or hypertension, can be controlled with a regular foot massage. Foot reflexology may help reduce systolic blood pressure and triglyceride.
✅ Promotes Better Sleep - One of the benefits of foot reflexology is regular good sleep, improve blood circulation, and relax nerves that encourage restful sleep.
✅ Fights Depression - According to a popular Journal called Reflexology Therapy, foot massage through reflexology slippers, provides consolation, helping people to balance the need for stress and demands of daily life.
✅ Relieves Aches and Pains - Foot reflexology also helps alleviate backaches, neck pain, reduce pain and swelling in the ankle and get relief from headaches and migraines, relieve thigh pain or lower back pain.
✅ Eases PMS and Menopause Symptoms - Many older women suffer from classic symptoms of sadness, irritability, insomnia, bloating, fatigue, headaches, and mood swings during premenstrual syndrome (PMS).
✅ Cure Restless Leg Syndrome - One of the benefits of acupressure footwear is curing restless leg syndrome, a kind of neurological disorder.
✅ Relief from the exhausting fatigue - Even physical ailments like cancer can be cured, through an acupressure footwear massage.
✅ Improves Blood Circulation - Due to sedentary lifestyles, most of us do not use the muscles of our feet properly. Also, improper footwear like tight shoes hampers normal circulation in the feet.
✅ Helps You Relax - After a long tiring day, the best way to relax is a soothing and relaxing foot massage, particularly after walking around when our feet tend to swell up.
✅ Makes Feet Healthier - Regular foot massage helps stimulate the muscles around your feet, lessens stiffness and even reduces pain in the ankles or the heels.


HOW TO USE IT
Designed to soothe foot/ heel pain & tension due to arthritis, neuropathy, plantar fasciitis. Promotes better blood flow to enhance overall health.
Wear these therapy massage slippers for
15 mins
each time
NOT all day
. These acupressure slippers might hurt for the first few times using them; however, simply add a pair of socks and shorten the wearing time while your body adjusts to the pressure sensor.
FEATURES
✅ Made of EVA material, soft, comfortable, and long life. Massage points can be also rotated 180 degrees, convenient to wear.
✅ Effectively stimulate your acupuncture points for your walking to provide safety and health.
✅ Cobblestone improves blood circulation and prevents leg cramps perfectly.
✅If it hurts it means it's working: If you find the pain, congestion, or tightness when wearing the massage slippers it means that they are applying pressure to work on bringing the body back into balance.
✅Perfect gift for your family, your friends! You can give to your friends, your family as a meaningful gift to help improve their health.

SIZE CHART
| | | |
| --- | --- | --- |
| Shoe Size | European | Heel to Toe(cm) |
| 6.5 | 38 | 24 |
| 7 | 39 | 24.5 |
| 7.5 | 40 | 25 |
| 8 | 41 | 25.5 |
| 8.5 | 42 | 26 |
| 9 | 43 | 26.5 |
| 9.5 | 44 | 27 |
| 10 | 45 | 27.5 |
PACKAGE INCLUDES
1x Pair Dr.Happy Feet - Acupressure Massage Slippers
Don't Lose Out! Promo Sale Ends Soon.
✅ 100% Satisfaction Guarantee - Easy Refunds
Our guarantee:
We work hard to offer you the best, most popular, and highest quality products available in the market space. We back it up with a risk-free 90-day, 100% MONEY BACK GUARANTEE. We send every order with tracking numbers and keep you up to date with the latest tracking information while your order is on its way to you.
Our shopping cart is SSL-protected.
We love talking to our customers! So if you have any questions, please contact us via email at
[email protected]
. We answer all inquiries within 48 hours.